M1A1 Abrams with TUSK I
M1A1 AIM Dragon with TUSK I Legend conversion kit
1/35 scale
This M1A1 with TUSK I (Tank Urban Survivability Kit) is my second Abrams, the first one being a M1A1 HC.
The M1A1 AIM Dragon kit is wonderful, very well molded and full of details.
Assembling progressed very smoothly. The only dark spot were track links: they are very realistic and easy to assemble, but when I put them in place around the spockets, here began the pain: the connection between the links was not firm, so they splitted again and gain and putting them togheter again was all but an easy job.
I added a scratch built TIP box (Tank Infantry Phone) that is missing both in the Dragon and in the Legend upgrade kits (and I really don't understand why…).
Over the optics and viewers of the tank I applied Anti-Reflective Coating stickers by AFV Club. These stickers replicate very well the "chameleon" like color shift (red, orange, blue, copper or green depending how the light strikes) typical of the anti-reflection coating applied on them.
The Legend M1A2(A1) Abrams TUSK I (LF1177) conversion set is complete and has an overall good quality. The box I ordered arrived with two left side armored skirts and no right skirt. I wrote to Legend to get the missing part and they were very quick in sending it. I give my AAA grade to Legend's customer service.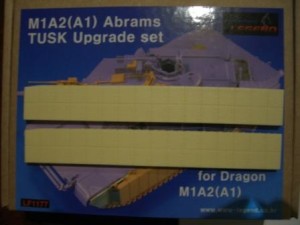 Among the many references I used, I want to highlight the Tankograd book "M1A1 / M1A2 Sep Abrams TUSK": with a lot of pictures it is very helpful to understand details of the various TUSK components.
While searching reference materials in the internet, I found a picture gallery of an outstanding Abrams model, with ultra detailed scratch built interiors. This suggested to me to build the turret interior for my model; it has been a very, very tough challenge, with lot of starts and stops, but this is what modeling is about for me: assembling and scratch building.
To build the interiors I also used:
– some photoetched parts from the M1A1 Eduard upgrade kit (p/n 35510);
– control monitors, speakers and Blue Force Tracker screen and keyboard from US modern radio and satellite communication set (PAU 35010) by Pro Art Models;
– Sincgars radio from US radio set SINCGARS (ASIP)  (PAU 35020) by Pro Art Models.
Model completed in November 2014.